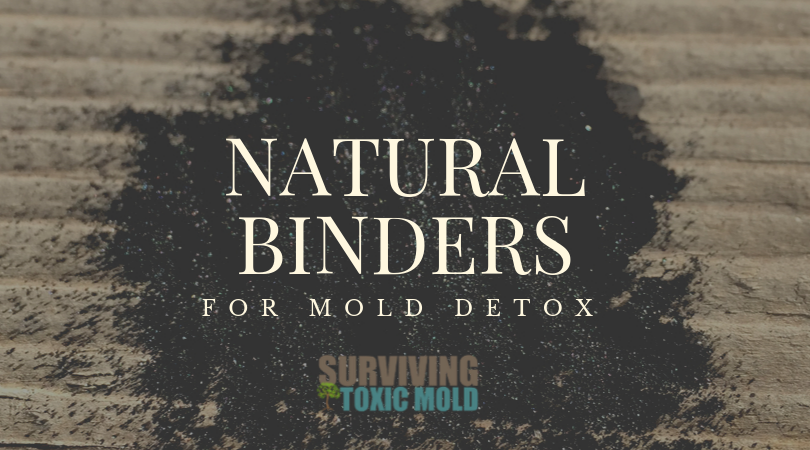 There's no doubt that our world is over-burdened with toxins in general, from car exhaust, cleaning chemicals, perfumes, heavy metals and so many toxins in our food supply but our focus here on the blog is to discuss Toxic Mold and it's effect on humans and animals.

Detoxifying from mold can be difficult for some and in my blog I focus on "Nature's Solutions" that can help assist people in healing and "Natrual" binders can help facilitate that process along more successfully.


What are Binders?
Binders are used to bind the toxins and get them prepared to exit from your body
Binders are defined as solid, insoluble particles that pass through the gut unabsorbed. They are meant to attract and bind toxins to facilitate their passage out of the body through the gastrointestinal tract.
The body's most important detox organ, the liver, expels toxins into the bile, which is a digestive fluid that flows from the liver down into the small intestines. Ideally, the toxins move through the intestines and leave the body in the feces. But the lining of the gut has many veins and nerves that can pick up toxins and re-circulate them back into the body. This is where binders come in. Binders attach to toxic metals, chemicals, bio-toxins, etc, and shuttle them out of the digestive tract, preventing reabsorption.
TALK CLOSELY WITH YOUR DOCTOR ON "DOSAGE and TIMING": MOLD DOCTOR OR MD THAT WILL HELP.
You must use a binder to get the mold spores and the mycotoxins out that they produce. (These DO NOT come out of your body naturally as they must be moved out and neutralized).

Here are the top "binders" you can use. (Not all binders work the same for each person so you can try each one for three to six months at a time each to see which one works. You will know it worked by how you feel...the symptoms will all start going away.) I'd start with the top of the list and work down:

BUY IT HERE
Zeolite (clay) from ZeoHealth
(*Most effective of all of the natural binders: My personal experience only)
Scientific Data on Zeolites: https://www.ncbi.nlm.nih.gov/pubmed/16198090
clinoptilolite (AKA Zeolite), incorporated into the diet may be effective in fighting mycotoxins by direct absorption. Affinity toward aflatoxins, zearalenone, ochratoxin, and the T2 toxin was proven in vitro in the presence of aminoacids and vitamins, where the latter were not absorbed by the clinoptilolite material (Tomasevic-Canovic et al., 1996). The specificity for aflatoxin M1 was also shown in vivo, and the dietary administration of clinoptilolite, especially of the material with the smallest particle size at the rate of 200 g per cow per a day, effectively reduced milk aflatoxin M1 concentration in dairy cattle (Katsoulos et al., 2016).

BUY IT HERE
Takesumi Supreme
(Carbonized Bamboo)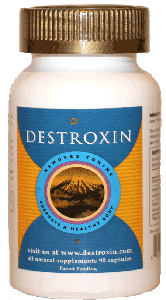 BUY IT HERE
Destroxin
(Zeolite clay caplets with added Calcium and Vitamin B12)

BUY IT HERE
Royal Detox
(A unique formulation of Apple Pectin, Chlorella, Cilantro, Spirulina, and Zeolite)



BUY IT HERE
Detox+Plus - from "Bulk Herb Store"
Detox+Plus is an exclusive mix of cleansing herbs, Detox + helps to gently cleanse the body of harmful mold toxins, heavy metals and chemical toxins as well as helping to purify the digestive system and colon.
Contains: Bentonite Clay Powder, Apple Fruit Pectin, Flax Seed, Psyllium Seed, Slippery Elm Bark Powder, Marshmallow Root Powder, Bilberry Fruit Powder, Peppermint Leaf Powder & Activated Charcoal Powder.
(This is another favorit of mine. It blends several of the binders in one easy product)



BUY IT HERE
Micro Chitosan
Special Precautions & Warnings:
Pregnancy and breast-feeding: There is not enough reliable information about the safety of taking chitosan by mouth if you are pregnant or breast-feeding. Stay on the safe side and avoid use.
Shellfish allergy: Chitosan is taken from the outer skeleton of shellfish. There is a concern that people with allergies to shellfish might also be allergic to chitosan. However, people who are allergic to shellfish are allergic to the meat, not the shell. So some experts believe that chitosan may not be a problem for people with shellfish allergy.



BUY IT HERE
Bentonite Clay
(Detox Powder)



BUY IT HERE
Diatomaceous earth
(FOOD GRADE ONLY)
Studies: http://www.ncbi.nlm.nih.gov/pmc/articles/PMC3737496/

http://www.ncbi.nlm.nih.gov/pubmed/26020748
http://www.ncbi.nlm.nih.gov/pubmed/25990012


BUY IT HERE
Activated Charcoal
(Best Brand for Purity and Strength is Organic PureVatage brand Food Grade - Coconut Derived)
Research: https://www.ncbi.nlm.nih.gov/pubmed/3037764

Buy it HERE
L-Methionine
(as recommended by pathologist, toxicologist and mold expert, Dr. William Croft, pHD


BUY IT HERE
Glucomannan
(Konjac Root)
Study: Effects of Glucomannan on Livers of Ram Sheep exposed to Aflatoxin Mycotoxins https://www.hindawi.com/journals/tswj/2012/462925/

BUT IT HERE
Modifilan
(Brown Seeweed Pill)

BUY IT HERE
Chlorella
(Safe and effective for anyone)
**Also extremely effective for those who have "Mycoplasma" which is a co-infection of Lyme Disease.


BUY IT HERE
Cholestepure
A natural alternative to Cholestyramine
Modified Citrus Pectin
Supports Cellular Health, Supports Healthy Immune Response, Support Healthy Detoxification of molds, metals

BUY IT HERE
QuickSilver ULTRA BINDER
The first action of this product's unique dual approach is an optimized blend of bentonite clay, zeolites, activated charcoal and a proprietary Quicksilver cleansing complex to cover a broad spectrum of toxins.

BUY IT HERE
BIND: (Systemic Formulas)
This formula provides toxin and heavy metal binding matrices such as activated carbon and purified humates to support natural toxin elimination. Binds in a matrix that cannot be reabsorbed via the Enterohepatic circulation

BUY IT HERE
G.I. Detox (Bio-Botanical Research)
Bio-Botanical Research GI Detox+, Gentle Full-Spectrum Binder with Zeolite Clay, Helps Remove Debris and Toxins, Supports Microbial Balance
UNIVERSAL
BINDER+
Full Spectrum
Vegan binder supplement: Codeage Binder + offers a premium blend of activated charcoal, bentonite clay, humic acid, fulvic acid, organic broccoli sprouts, organic chlorella extract, wild yucca root extract, and molybdenum in an all-in-one formula. Ingredients: Molybdenum (as TRAACS Bisglycinate Chelate), Activated Charcoal, Organic Broccoli Sprout, Organic Chlorella Extract, Wild Yucca Root Extract, Bentonite Clay, Humic Acid, Fulvic Acid.


DO NOT take any of the binders above unless you are drinking plenty of water, keeping detox pathways and taking some type of a kidney, liver, lymph support herb. Talk to an herbalist and tell them you are detoxing and that you need to make sure these organs are open and not blocked. (When you use a binder it will bind the toxins and push them into the bloodstream and your organs which can poison you...so you want to make sure you are using herbs that "open" the doors to let the toxins out.
Is mold making you sick? Put the effects of Toxic Mold behind you!!
Do you think you might have mold in your home, place of business or school? Are you or someone you love suffering from an unknown illness that doctors can't diagnose? Is mold making you sick? Go to our Step by Step and start Surviving Toxic Mold.